I've
reupholstered a desk chair
before, so I was up for a more challenging reupholstering job the second time around. I needed another one for the guest bedroom/study. I checked out Craigslist for a few days and found this beauty for $10.
Pic of the back (couldn't find a photo of the front).
It had seen better days - it was made in the late 70's after all (I found the date and manufacturer on its underbelly). It also wasn't the right colored fabric. But it had good bones, which is what attracted me to it.
Here is a tutorial that I wrote before about my last reupholstering job
. I have one more little tip about how to get the corners taut, which is especially important when you don't have a plastic cover to tuck the corners into.
First, staple the fabric to one or two sides of the chair. Then, gather the fabric around corner and pinch it such that there are layers folding on one another.
I'd also recommend turning it over while you're pinching the fabric to make sure everything looks right on the front. Then, staple it and admire your work!
Here is the final product! By the way, I got the fabric from IKEA for around $4 or so per yard. I think I used half a yard. That means this desk chair cost me a total of $12!! Not bad at all, if I do say so myself. :-)
The front
The back
What have you reupholstered lately? Please comment with a link! I'd love to see your project!
I'm linking to...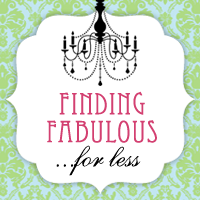 PS - Dear Dad, I already spoke with you today, but just wanted to say again happy Father's Day!
Me & your little granddoggers, Heidi and Jini :)